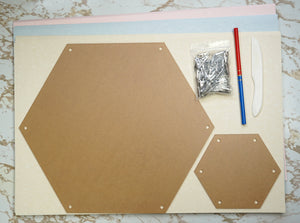 Full Paper Pack
$11800

$118.00
Tax included.
Shipping
calculated at checkout.
---
---
You bring the willingness to practice and I'll provide the lessons and the equipment!
This pack has 75 sheets of Skytone in multiple colors (my favorite paper for folding origami tessellations), a bone folder, two sizes of hexagon templates that work perfectly with this size of paper (two other sizes can be added also), a bag of clips to hold your pleats in place, and a two-sided colored pencil in red and blue.
All you'll need is a cutting mat and a rotary cutter, and then you'll have perfectly cut hexagons to fold your origami tessellations on!
If you just want the paper, you can get that here.
Great!
Love the paper!. It lets me keeping trying repeatedly to fold the tessalations correctly, even when I keep messing up and having to pull them out and start over again. The paper's also large enough that I can get a 32 grid in a hexagon, so can continue, doing at least one more round of tessalations, which helps me learn a little better since the Advent of Tess classes use a 16 fold grid.
Also like the hex templates. Easier to use than the ones I made out of poster board (though mine go larger, which I like, but mine don't fit on the paper - it's not big enough).
---